Since we visited some of our favorite funk 45s of 2016 yesterday, today we wanted to revisit some soul 45s we dug on the site in the '16 (in no particular order). These may have been off your radar or in your record bag, but we dug all of them. Check it out!
The Soul:
The Meltdown: Better Days

We were all over this gospel soul inspired track from Down Under outfit The Meltdown. Chanelling the spirits of Muscle Shoals and dipping in and out of country soul as well, this is one beautiful single on the Hope Street imprint.
Willie West & The Soul Investigators – After The Storm

A haunting piece of beautiful sadness, the man who has embodied soul music itself for more than five decades once again gives us authentic soul music that could make you cry. Backed by the Soul Investigators, who are like the secret weapon in funk and soul music today, you will be weeping again and again to this one.
Rachel Modest: I Try

An emotional roller coaster of love lost, this powerful soul side got in deep on the ATA label. This rising star in the soul scene is definitely on our radar and we are looking forward to some new material from her in the '17.
The Do Yo Thangs: One Plus One


A slow jam wrapped up into a quiet storm, Hope Street Recordings comes through once again with The Do Yo Thangs and "One Plus One". A modern soul banger fused with R & B goodness, this down tempo forty five is as soulful and feel good as they come. Nice work once again from the Down Under label that just keeps churning out hits!
Durand Jones & The Indications: Smile


What more can we say about Durand Jones and The Indications? These guys can lay it down like no other, and seriously make soul music like it should be: authentic, tough as nails, and a cut above the rest. Colemine Records really is on another level with their releases. If this isn't on anyone's top picks for 2016, then they are missing out.
Lee Fields & the Expressions: Special Night

Lee Fields has a way of making it soulful or funky at the drop of a hat. This record is the epitome of soul. With haunting organ work throughout, this lonely tale proves once again he is one of the best to ever do it. Big Crown wins again, and so do you.
Fred: Love Can Last Forever


More soul music you have never heard of coming straight out of the Timmion camp once again. Fred croons his way into your hearts and ears with this beautiful sweet soul side you may have missed. Slow moving and sweet as the bee's honey, this off shoot label Stylart is a future classic for sure. Falsetto vibes for days.
E Featuring Ishtar: The Turning Point


Oh how do we love the soul music E Da Boss puts out. Always working, DJing, and making fantastic soul music like "The Turning Point", he pays respect to the elders while pushing the genre forward with each release he gives us. This offering on Mocambo is a great example of that. Another soul banger for the '16.
Maurice Smith: Can't Fight The Feelin'


File under In Case You Missed It. Motown, Stax, and all your classic soul heroes rolled up into one, Maurice Smith swings it in a soulful way on "Can't Fight The Feelin' ". He can't fight it, and needs sweet, sweet loving. Well we all do, but we can't express it like he does. Al Green would be proud. This one was definitely flying under the radar.
Lady Wray: Do It Again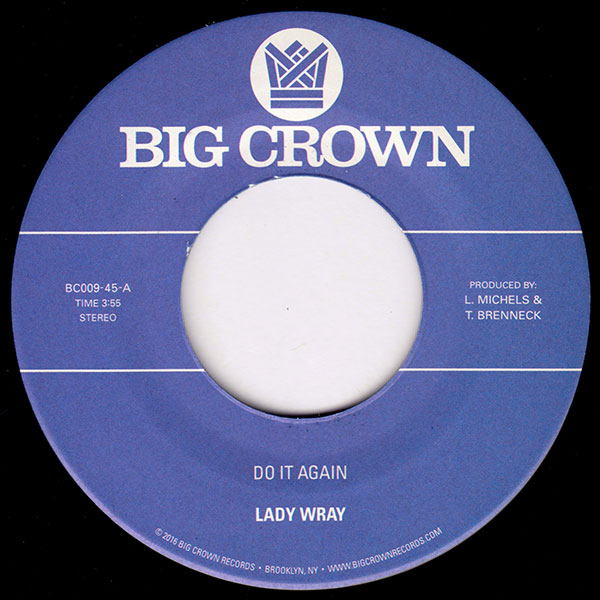 Another Big Crown scorcher with huge horns and vocals courtesy of Lady Wray. This Hotlanta soul queen can really belt it out, and if you have got the pipes, why wouldn't you? This one got played out a lot, and not by this writer either. Always innovating and pushing new ground, the crew over at BC never sleep to bring you new and innovative music.
Keep Diggin'!